Why You'll Love New Smyrna Beach
22 Sep 2017
Salty Mermaid as featured in "Southern Living" Magazine's, "Why You'll Love Your New Smyrna Beach Vacation"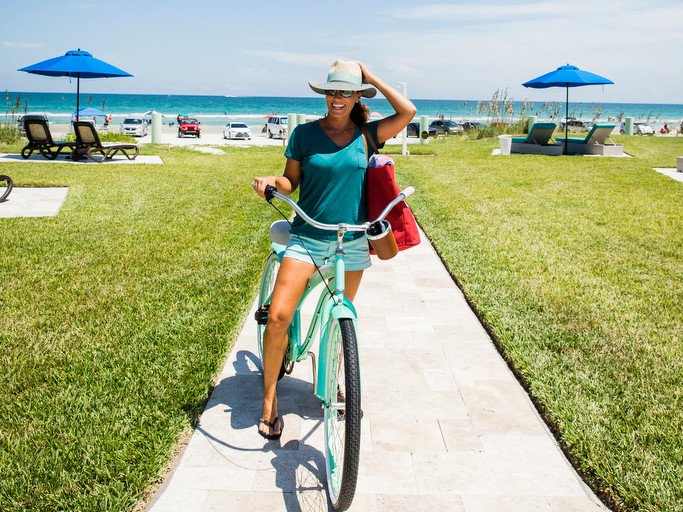 Florida's State Road A1A winds through some of the coolest beach towns in the South—and this is one of them.
By Valerie Fraser Luesse
If you can drive down Flagler Avenue in New Smyrna Beach without wishing you had a dark tan, a cool nickname, and a surfboard strapped to the roof of your vintage Woody Wagon, you've got a firmer grip on reality than we do. This quirky little town is so much fun!
Even if you never leave the handful of blocks between Indian River North and the Atlantic Ocean, you'll find plenty of things to do in New Smyrna Beach because this town is tailor-made for flip-flop adventures. Flagler Avenue dead-ends at a popular beach access point, where 10 bucks will get you and your vehicle onto the sand. Truth be told, most people don't drive very far. They pick a sandy spot, park, and unload their gear as they need it. It's so much more humane than slogging your beach bags, chairs, umbrellas, and the all-important cooler all the way from your condo to the beach.
New Smyrna Beach, just like Flagler Beach up the road, is a surfing mecca. (You'll notice that the beach patrol station next to Flagler Avenue Beachfront Park looks like a lifeguard stand on steroids.) You'll also spot surfer dudes with their boards in hand, making their way down a long and meandering boardwalk at Smyrna Dunes Park, which has an Atlantic overlook and steps down to the beach.
Ready to go? Here's you're 3-step plan for a great trip to this A1A beach town:
1. Choose your stay.
Our beachfront pick? The retro-cool Salty Mermaid, a vintage motor court renovated with style. Instead of a pool, it has a lawn area with lounge chairs and umbrellas overlooking the Atlantic.
2. Explore Flagler Avenue
Start at Flagler Tavern, which is right in the thick of things. Not only does it have good food and drink, reasonably priced, but its big double porches offer box seats to all the beachy to-doings. Other favorites near the beach: The Breakers for casual fare with an Atlantic view, The Beacon for down-home breakfast, ice cream at Treats on the Beach or Beachside Candy Co., "beach-inspired Tex-Mex" at Clancy's Cantina, and fresh pizza, serious java, and wine selections at Third Wave Café & Wine Bar. You'll find plenty of local shops tucked along Flagler, as well.
3. Hit the Beach
It's why you came, right? Atlantic beaches have a different vibe from those along the Gulf, and if you typically vacation on one coast, it's fun to experience the other for a change. So pack that cooler, load all the chairs and umbrellas into your trunk, and head down A1A. Tell The Salty Mermaid we sent you.
For the full article, please view it on Southern Living's here.