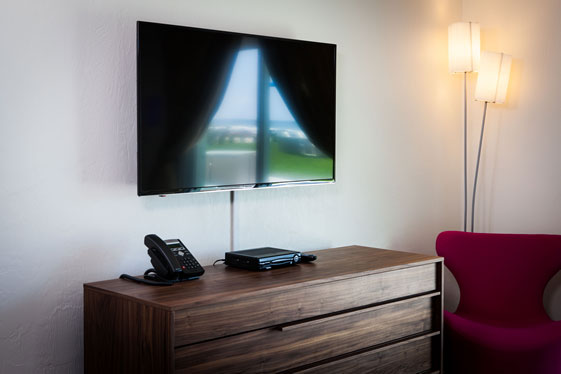 What makes the Salty Mermaid oceanfront Hotel a luxury hotel?
7 Apr 2017
Modern amenities, oceanfront suites, and & much, much more
What makes a luxury hotel luxurious anyway? Is it the cleanliness? The mattress? Hotel bathroom shower? In-room extras? We'd say it's a combination of all these and much more. Too many hotels are self-proclaimed as 'luxury' hotels, but they never seem to have great amenities that would qualify them as such.
Here are a few luxury hotel must-haves:
Super clean suites – it's one thing to have clean sheets and a vacuumed carpet. But a luxury hotel must have a fresh scent to it, polished surfaces, new upholstery, and immaculate mirrors. The Salty Mermaid hotel has a cleaning crew that doesn't disappoint. Every surface is scrubbed and polished with the freshest products and staff returns every day of your stay to freshen up. Don't take our word for it. Florida blogger, Brittany Gibson, shared her recent experience at the Salty Mermaid Oceanfront Hotel in New Smyrna Beach.
Here's her take on our rooms: "When you walk into the room you are hit with an incredible scent, I know this is a funny detail, but walking into a clean room is one thing, walking into a clean, amazing smelling, bright hotel room is a whole other ballpark."
Luxury hotel beds make for a whole other kind of hotel stay. Each of the Salty Mermaid Hotel's suites has Serta mattresses and the finest linens. Egyptian cotton sheets and pillows make for a sleeping experience you'll never want to wake up from. Brittany's take was "this bed was something else…You can't take the bed with you but you can buy the pillows in the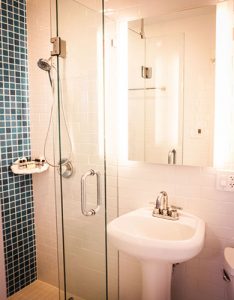 lobby area, and I will be purchasing at least 4."
The bathroom showers at our New Smyrna Beach oceanfront hotel are unlike any other you've seen. A soft blue light makes for a serene ambiance. Bright backlit mirrors create a fancy vanity to apply your make-up like a queen. To top it all off, every bathroom is equipped with Bluetooth capability so you can blast your tunes.
The modern amenities are a major part of what makes the Salty Mermaid Hotel a 5-star luxury hotel. Keurig coffee makers don each suite workspace and modern lighting
decorates each corner. Festive pillows,  bright chairs, and a 55″ smart TV make you feel like you've stepped into a tropical paradise dream hotel. The family owners pulled out all the stops with every detail of the luxury suites. Plus, every room comes with a complimentary beach bag and yoga mats for a full Zen experience.
Did we mention the call of the ocean steps outside each suite? It's not just the rooms that make a hotel luxurious; it's everything else the hotel has to offer. All rooms of the Salty Mermaid include private cabanas on the paved courtyard overlooking beautiful New Smyrna Beach. The gift shop includes chilled wines, spa soaps & body butters, extra towels, herbal teas, and all kinds of mermaid items.
Plus, the hotel's sister company Salty Rentals is on-site to give you the finest beach rentals – bikes, scooters, and top-of-the-line golf carts.
The Salty Mermaid is the ONLY oceanfront hotel in New Smyrna Beach, and it just so happens to offer a luxury experience, too. The friendly hotel staff is always offering seasonal promotions & special discounts so call now to see what the Salty Mermaid Oceanfront Hotel can do for you. Or book your perfect beach wedding on location for a sand-free beach wedding on our private courtyard.
Between the sunrise yoga, oceanfront mimosas, Ritz-Carlton pillow-top mattresses, and modern amenities – we promise you will have the perfect beach getaway.
Oceanfront hotel in New Smyrna Beach is just the beginning of the wonder at the Salty Mermaid Hotel.