Golf Cart Rentals Street Legal
10 Sep 2017
Are golf cart rentals street legal?
Golf cart rental related questions we field all the time about whether golf carts are street legal or not. The answer? It depends… Florida law does make allowances for golf carts to drive on public roads in certain circumstances, but local regulations may also apply.
So are golf carts street legal in Florida?
A statement from Lieutenant Mark Severance from New Smyrna Beach Police Department details it's legality below: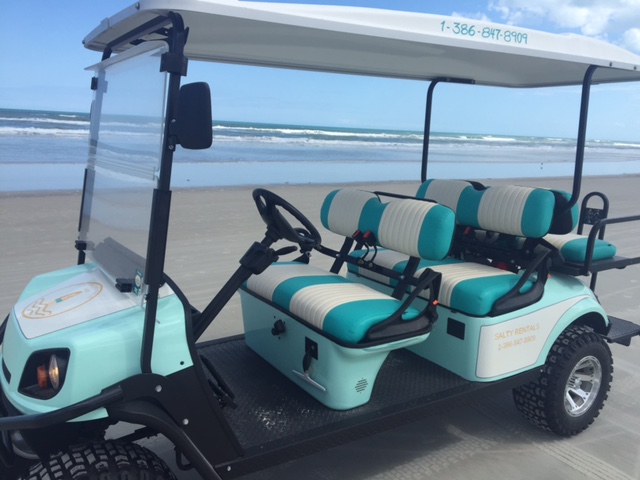 Florida Statute 316.2122 governs their use and provides certain restrictions. A few of the most important are:
1. Low speed vehicles can only be operated on roadways with a speed limit of 35 MPH or less.
2. Low speed vehicles must be registered (Tag) and insured as with any motor vehicle.
3. To operate a low speed vehicle, you must have a valid drivers license in your possession.
4. Low speed vehicles must be equipped with all safety equipment such as, headlights, tail lights, seat-belts. mirrors etc..
5. Low speed vehicles are subject to all traffic regulations as provided by Florida Statutes.
Additionally, unregistered golf-carts traveling to and from a nearby golf course are allowed as provided in Florida Statute 316.212.
Parents, please do not allow your children to operate these vehicles on any roadway or city right of way without a valid drivers license.
New Smyrna Beach offers an ideal location for vacationers to enjoy the day exploring the natural beauty that it's beaches have to offer.  The natural response is to shoot up one of the entrances or exits available throughout your journey.  It's good to know that your can maintain your carefree vacation without the fear of breaking any laws by driving your golf cart rental on the street when necessary.
How old do you have to be to drive a golf cart?
In many states the minimum age is 13, but Florida law stipulates that golf cart drivers be at least 14 years old, although you don't need a license. Although, chances are you've seen this law broken at the beach or golf course.
Are there restrictions on when you can ride a golf cart in Florida?
Yes, Florida law also restricts golf cart use to the hours between sunrise and sunset. Some municipalities do allow night driving, so long as the golf cart has the required headlights, taillights, brake lights, and more safety features.
My neighbor Bob modified his refurbished golf carts to go faster than 20 miles per hour, is that legal?
Bob should probably be more discreet. Although we live in a free country, by law golf carts are manufactured for a top speed of 20 miles per hour. Golf carts modified to go faster are legally no longer golf carts, but motor vehicles, with all the legal and insurance risks that come along with it.